Although Loutro are situated well away from the touristic mainstream there are plenty of things to do right there and also a little further afield.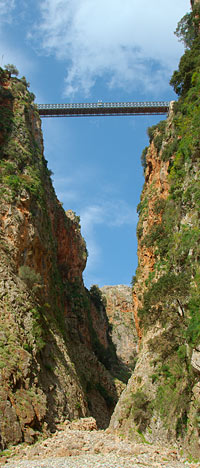 Swimming
The climate is so mild that swimming is possible from April to November and often as late as December. There are several beaches in the area for an enjoyable swim.
Snorkeling and diving
The beaches and the clear crystal waters of Loutro are ideal for snorkeling or diving. In Loutro there are not such rental services but there are in the village of Sfakia. Alternatively you can use your own equipment.
Canoeing
Canoes are available for rental by the hour or by the day.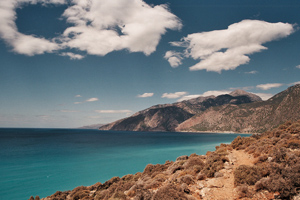 Walks
The gorge of Samaria is by far the most famous and the most crowded of all the gorges. There are plenty of organised tours available (departing from Chania) and it is also easy (if a little long) and safe to walk on your own. From Loutro it is easy to go to Agia Roumeli by ferryboat and walk up the gorge for a while before returning in time for the last ferry to Loutro.
The Imbros gorge (ending near Hora Sfakion) can get a little crowded in the spring, before the Samaria gorge opens to the public when it is used as an alternative organised tour. The path is easy to follow.
The gorge of Aradena (not far from Loutro) is ideal for nature lovers or explorers as it has not been discovered by a lot of tourists yet. The walk is pleasant and easy although there are some steep passages.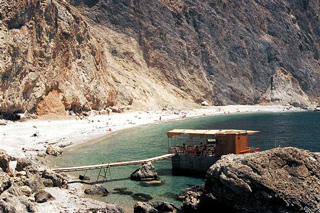 Ag. Roumeli – Loutro
Loutro to Hora Sfakion (or vice versa). It is just 1,5 hours walking along the coast. Its main interest is the beautiful "Sweet Water Beach".
Marmara Beach or Dialeskari
It is a beautiful beach at the back side of Loutro. You can visit it by boat which departs at 11.00 from Loutro and returns at 17.00. Additionally you can go there on foot as it would take just 1 hour.
Excursions
The region of Sfakia is the largest region in West Crete but it makes up less than 10% of the entire surface area of Crete. Although we truly believe that Sfakia is unbeatable in terms of natural beauty, the island has much to offer beyond our region, especially its rich historical past: Crete had the first civilisation in Europe 6000 years ago and its remains are still visible. The Dorians, Mycaenians, Greeks, Romans, Arabs, Byzance, Venetians and Turks left their marks as well and the past is really everywhere.
The cities of Chania and Rethimnon offer very good examples of this mixture of civilisations and are worth a visit. They can easily be reached on a day trip from Hora Sfakion.
Heraklion is best known for the Minoan palace of Knossos. Even though its restoration is controversial it is worth braving the crowds to have a look at it.
The Archaeological Museum of Heraklion houses the best collection of Minoan artefacts world-wide and its visit is almost a must.
Further away there are also some wonderful Minoan palaces at Phaestos, Malia and Zakros (to name the best known ones).